Our practice accepts insurance from the following companies.

Delta Dental
Delta Dental Plans Association is a not-for-profit organization with some for-profit affiliates as member companies. Through its 39 independent member companies, it offers national dental coverage to our patients - administering programs and reporting systems that provide employees and individuals with quality, cost-effective dental benefits and superior customer service.

Premera Blue Cross
Since 1933, we have delivered true value and peace of mind when it comes to your healthcare. Our ongoing commitment to quality has made us Washington's plan of choice for over 1.2 million people. We understand the Washington region and provide superior medical plans and health-support programs that anticipate your needs because we live here too. Our responsive customer service team is dedicated to providing you the highest level of support.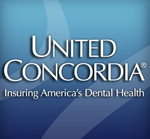 United Concordia
We protect more than just your smile. See why our award-winning service, thoughtfully-designed plans and large, nationwide dentist network offer unmatched value to you and your family.
Cosmetic dentistry for beautiful smiles
If you want a gorgeous smile that turns heads, you may want to learn about the range of dental services offered at Richard G. Witter, D.D.S. Spokane area cosmetic dentist Dr. Richard Witter is dedicated to producing quality results and beautiful smiles.
Dentures that look great and last
If you're looking for dentures that look great and last, look no further than Richard G. Witter, D.D.S located in the Spokane, WA area. Richard Witter, D.D.S. will assess your needs and fit you with durable, comfortable, natural-looking dentures - at a price you can afford.
Natural-looking dental implants
Richard G. Witter, D.D.S is a trusted Spokane area dental implants practice providing natural-looking, comfortable tooth replacement. We make it our mission to use a gentle touch during the process.
We hold ourselves to the highest standards to replace missing teeth and provide you with natural-looking results. Our goal is to restore your confidence and your bright, healthy smile.
Trusted TMJ/TMD dentistry for pain relief
Did you know that trusted Spokane area TMJ/TMD dentist Richard Witter, D.D.S. offers treatment for jaw pain relief? If you're experiencing discomfort when you move your jaw, or you hear clicking and popping when you chew, we want to help.
Our friendly team is happy to answer questions. There's no need to continue to live with pain. Relief is just a phone call away.
Whitening for brighter natural looking teeth
Would you like your smile to be a bit brighter than it is right now? We can make it happen at Richard G. Witter, D.D.S, with professional tooth whitening for brighter natural looking teeth. Dr. Richard Witter's Spokane, WA area office can effectively lighten your stained or discolored tooth enamel. Whiter teeth not only look great, they improve your self-confidence.